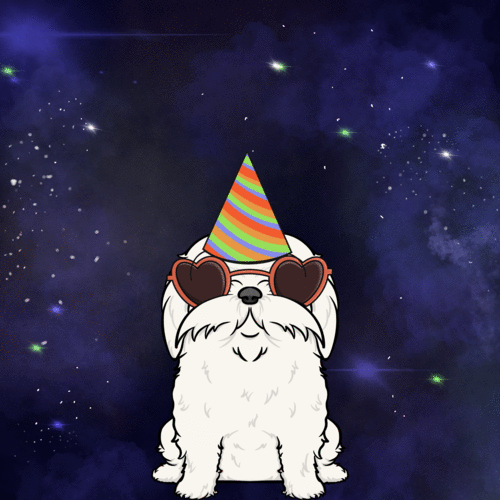 Celebrating Puppy Day, March 23rd. Generative art. So smol and floofy!
600 puppers were born in a single litter and dispersed across 6 blockchains. Each pupper is unique and has DNA generated from its date and blockchain that determines the traits of the pupper. There are six traits:
Background
Body Color
Hat
Eyes
Mouth
Clothes
While all puppers are special, some puppers are rarer than others. As such, each pupper has a score and rank to help determine its specialness. You can use an interactive rarity tool to find rare puppers to mint.
Rarity Charts
| Background Design | Number | Percentage |
| --- | --- | --- |
| Night Sky | 152 | 25.3% |
| Psychedelic | 153 | 25.5% |
| City | 33 | 5.5% |
| Purple | 39 | 6.5% |
| Red | 30 | 5% |
| Green | 43 | 7.1% |
| Blue | 36 | 6% |
| Tan | 41 | 6.8% |
| Grey | 40 | 6.6% |
| Orange | 33 | 5.5% |
| Total | 600 | 100% |
| Eyes | Number | Percentage |
| --- | --- | --- |
| Regular | 224 | 37.3% |
| Sunglasses | 81 | 13.5% |
| Open Eyes | 84 | 14% |
| Heart Glasses | 35 | 5.8% |
| Crazy Eyes | 24 | 4% |
| Total | 600 | 100% |
| Hat | Number | Percentage |
| --- | --- | --- |
| None | 217 | 36.1% |
| Knit Beanie | 69 | 11.5% |
| Party Hat | 76 | 12.6% |
| Halo | 38 | 6.3% |
| Horns | 34 | 5.6% |
| Total | 600 | 100% |
| Mouth | Number | Percentage |
| --- | --- | --- |
| Closed | 223 | 37.1% |
| Tongue Out | 76 | 12.6% |
| Mad | 86 | 14.3% |
| Grimmace | 28 | 4.6% |
| Pipe | 33 | 5.5% |
| Total | 600 | 100% |
| Clothes | Number | Percentage |
| --- | --- | --- |
| None | 213 | 35.5% |
| Suit | 64 | 10.6% |
| Tanktop | 64 | 10.6% |
| T-shirt | 47 | 7.8% |
| Briefs | 38 | 6.3% |
| Total | 600 | 100% |
Body Color
|   | Number | Percentage |
| --- | --- | --- |
| White | 375 | 62.5% |
| Tan | 225 | 37.5% |
| Total | 600 | 100% |